Senior schools throughout the country came together to participate in the National Bredon School Annual Climbing Competition, held on Friday 26th November. 
On the day there were 119 pupil competitors from 19 schools including Clifton College, Bristol Grammar school, Cheltenham Ladies College, Bolton School, Solihull School and Barnard Castle School. This annual competition sees pupils taking part in a range of climbing challenges and culminates in a prize giving at the end of the day.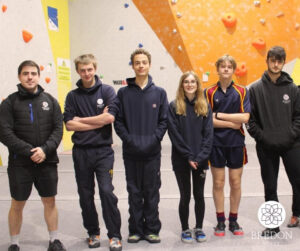 Bredon's inaugural Inter-School Climbing Competition took place in 2018 and was the first of its kind in the UK. Pupils choose to enter the intermediate or advanced category to compete in. The Intermediate competition involves Top Rope climbs and Bouldering problems to score from. The Advanced competition involves Lead climbs and Bouldering problems.
Within the Bredon School event, the Independent Schools Association (ISA) held its National School Climbing Competition event which saw fantastic success for Bredon School with Ethan M (Upper Sixth) taking 1st place and Noah W (Lower Sixth) taking 3rd position. 
Results for the National Bredon School Climbing Competition are:
Open Intermediate Male
1st- Joe- Clifton College
2nd- Fran- Abingdon School 
3rd- Louis- Abingdon School
Open Intermediate Female
1st- Masna- Hurst School
2nd- Sonia- Cheltenham Ladies College
3rd- Freya- Pates Grammar School
Open Advanced Male
1st- Alessio- Bristol Grammar School
2nd- Felix- Hurst School
3rd- Rufus- Abingdon School
Open Advanced Female
1st- Issy- Bristol Grammar School
2nd- Robyn- Dixie Grammar School
3rd- Molly- Bristol Grammar School
It was fantastic to see this many pupils back together competing in a sport that is growing in popularity and recognition. For many pupils this was their first opportunity to represent their school in a sports competition.
The competition is free to enter and is open to all enthusiastic climbers from Years 10, 11, 12 and 13. The event took place at the Redpoint Climbing Centre in Worcester which boasts a spectacular 1500 square metres of climbing and bouldering walls.
Congratulations to all pupils and schools who took part.